kinsei matec > Environment > Environmental Policy
Environmental Policy
In order to reduce the overall environmental impact, we have established the following policy.
Environmental policy 2014
1 We preserve limited resources and decrease the environmental impact.
2 We comply with environmental legislation.
3 We set environmental objects and targets which are regularly reviewed and upgrade the Environmental Management Systems continuously.
4 We promote the segregation of waste for recycling.
5 We educate all company members to help them understand the objectives of environmental conservation.
6 We disclose this environmental policy to the public.
Environmental target 2014
1 Reducing CO2 emissions
2 Reducing waste
3Preventing water pollution
ISO14001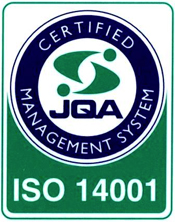 JQA-EM2518
Yokkaichi Factory
Mr. Koji Ozasa
Yokkaichi Factory Manager
KINSEI MATEC CO.,LTD